Welcome to the home of A&M Racing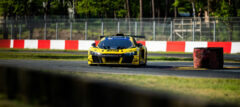 As the largest privately owned dealer in Belgium, A&M Group is one of a kind. Our team is incredibly passionate about cars and we feel it is our responsibility to ensure the future of motorsports. Thank you for visiting our website, we hope to see you soon… on the track!
Interested in becoming a partner?
There is nothing quite like watching a supercar drive at high speeds, around the fastest race tracks in the world. It's breathtaking and terrifying at the same time, while also being one of the most advanced technological sports in the world.
Would you like to become a part of this world?