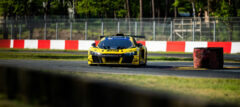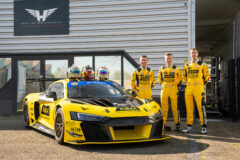 ANM Racing Hospitality Program
Racing, the fastest, most breathtaking and by far, most sophisticated sport in the world. A sport where technology challenges are combined with the expert knowledge of engineers, drivers and technicians to deliver cutting edge solutions. The place where technology, the passion for speed and competition meet on track.
Brand visibility
By partnering up and sponsoring A&M Racing, your brand/name will be visible for large audiences. Our team races in front of live attendees at some of the most famous courses on the planet. Breathtaking cars, high speeds and a lot of media attention. What's not to love.
Business and networking
The world of racecars attracts the attention of a multitude of businesses withing a wide variety of interests. By partnering with A&M Racing you will come in contact with high profile leads, in a relaxed and informal setting. There's nothing better than meeting a potential lead, that shares the same interests as you.
Social media awareness
Through are social media channels we'll promote every event that we attend, by posting videos and pictures as well as behind the scenes footage of our cars and team. Our team will work around the clock to ensure quality footage to create brand awareness and shareable contact for all of our partners and fans.
Teambuilding and events
By partnering op with A&M Racing you'll be able to offer your employees and clients an unforgettable experience. Invite your closest contacts in the paddock, on track and maybe even inside of a true racing car.
ROI
What's in it for you? Brand awareness, networking and marketing opportunities for your brand. As mentioned before we'll offer our sponsor the possibility to experience something they've never before seen from up close.
Interested in becoming a partner?
There is nothing quite like watching a supercar drive at high speeds, around the fastest race tracks in the world. It's breathtaking and terrifying at the same time, while also being one of the most advanced technological sports in the world.
Would you like to become a part of this world?